Kevin Bell Repatriation Trust has now helped bring home bodies of almost 500 people who have died abroad
4th June 2019 - kbrt-wibble-admin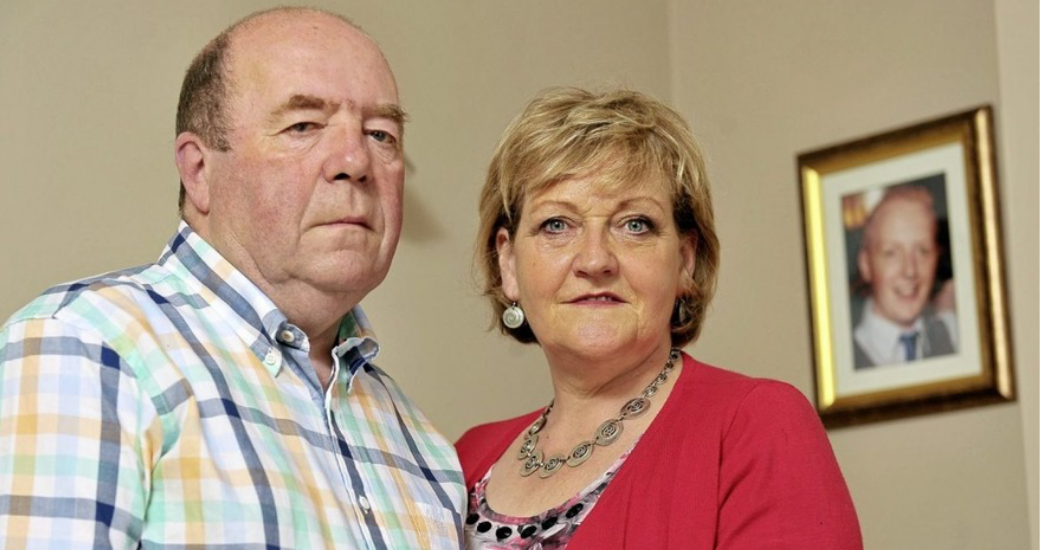 A Co Down-based charity which helps families bring home the bodies of loved ones who have died overseas has repatriated almost 500 people since being set up five years ago.
Having returned the remains of seven people in the first six months after it began its work in June 2013, the Kevin Bell Repatriation Trust assisted in 181 cases last year.
The trust, which receives no funding and relies solely on donations, was established by Newry couple Colin and Eithne Bell following the sudden death of their son Kevin.
The 26-year-old, who was a champion Irish dancer, was out with friends when he was struck by a vehicle in the Bronx area of New York in 2013.
Around £115,000 was raised to help pay for his remains to be brought home to Newry.
However, in the weeks following his death, Colin and Eithne Bell heard of a several other people who had also died suddenly abroad.
The couple made contact with families and offered to use money left over from the funds raised for their son to pay to bring their loved ones home from locations including Thailand and Las Vegas.
They then decided to establish the Kevin Bell Repatriation Trust in memory of Kevin.
The charity helps in cases where there is no travel insurance or appropriate cover and five years on, it continues to find its services in increasing demand.
From just seven people repatriated in 2013, the figure rose to 42 the following year and then 93 in 2015.
In 2016, the families of 105 people were assisted and last year, this number rose to 181.
So far this year, the trust has been involved in bringing home the bodies of 61 people.
Of the total figure over the past five years, 169 have been from Northern Ireland and 320 from the Republic.
The majority of deaths have been in the UK, followed by Europe and Australia and New Zealand.
However the trust has helped bring people home from all over the world including Canada, Indonesia, Saudi Arabia, South Korea, Uganda and Vietnam.
Last year, the trust repatriated from China for the first time and most recently this year, Azerbaijan.
Five years on from its formation, Colin Bell said the charity typically receives four to five calls a week from families in need of its services including handling all the bureaucracy.
Mr Bell, who is 64, said the trust aims to take the stress of such arrangements away from bereaved families.
He said he knows from from personal experience how families find themselves in "limbo" when a loved one dies suddenly abroad.
"You don't know, who do I speak to?" he said.
"You have got a cold call so what do you do? Where do you turn? It's not financial. It's the whole fact of whenever a family contacts us and we can say, `You don't have to do anything else. We will take it from here'.
"At a time of terrible stress, to have that worry taken off, is a big thing I think."
Mr Bell recalled how the trust was born from money left over after the repatriation of his own son.
"What were we going to do with the money?" he said.
"About a week after Kevin's funeral, we heard of a young fella who died in Thailand. We contacted his parents and said we had the money and we brought him home.
"The week after that a young fella from Sligo died in Las Vegas. We contacted his parents and then we heard of somebody else and then we said `make this Kevin's legacy' and we applied for charity status."
Mr Bell described the amount of fundraising carried out on behalf of the charity as "totally amazing".
"The variety of fundraisers and the imagination of people," he said.
"I was in Kildress a couple of weeks ago where they did a pub version of The Chase, it was absolutely brilliant.
"It's just the likes of Gaelic clubs, a motorcycle club, all manner of people. There's fundraisers every week. We get massive support."
In terms of the future, the Newry man said the charity will continue to grow.
"There are that many Irish people around the world and it's a rite of passage now to do the likes of Thailand or America or Australia or take a year out," he said.
"We know that Kevin didn't die for nothing. That something good has come out of Kevin's death. It does keep us busy when we are dealing with the families and they know we have been through the same. We're more than happy to do it.
"We've been to parts of Ireland we have never heard of. We have met fantastic people and families and become great friends with them. This is for the long-term."